Wireless VAS6154 Diagnostic Tool with ODIS 4.3.3 Software for VW Audi Skoda Upgrade Version of VAS 5054A
Numéro de l'article SP308
Achètez-le maintenant:
€63.00
Livraison:

Livraison gratuite Standard Flat Shipping
Délai de livraison estimé: 10-20 jours de travail.

Détails »

Poids:

0.3KG

Paquet:

14.5cm*13.5cm*3.5cm

( Inch:5.69*5.3*1.37 )

Retour:

Return within 7days,buyer pay return shipping cost.
VAG Diagnostic interface VAS 6154 est équipé d'une technologie de réseau sans fil et peut être utilisé avec le service de système d'information de diagnostic hors-bord de la version 3.0.0. Il remplace la tête de diagnostic à distance VAS 5054A. Il permet de transmettre des données de l'interface dans le véhicule à l'unité de diagnostic.
VAS6154 Diagnostic Tool with ODIS 4.3.3 Software for VW Audi Skoda

Top 4 reasons to get VAS6154:
1.La plus grande interface de diagnostic et de programmation pour les applications VAG ODIS-S (Service) et ODIS-E (Ingénierie), peut remplacer les VAS 5054A et VAS 5055.
2. Disponible pour l'ingénierie de l'information de diagnostic hors-bord à partir du V6.2 et du service d'information de diagnostic hors-bord à partir de V3.0.3 en avant.
3. Soutenez tous les véhicules VW Audi Skoda à partir de 2000, y compris les NOUVEAUX MODULES FUTURES en cours de production.
4. Prise en charge WIFI et connexion USB: Grâce à la technologie de communication sans fil, vous pouvez obtenir une communication sans fil du véhicule et une interface de diagnostic.

Les pays suivants peuvent utiliser la connexion WIFI et USB:
Australia,Bosnia and Herzegovina,Brazil,Canada,Switzerland,Cyprus,Czech,Danmark,Estonia,Finland,Greece,Hongkong,Israel,India,Ireland,Italy,Lativia,Mexico,Netherland,New Zealand,Poland,Russia,Argentina,Korea,Singapore,Slovenia,Turkish,Ukraine ,UAE,United States,United Kingdom.
Also support USB module transmission, to ensure the reliability of diagnostic interface data transmission.if your country is not on the above authoriazted Country, you just can use USB Connection Module.
5.Support Multi-langue: anglais, japonais, portugais, roumain, coréen, néerlandais, polonais, turc, espagnol, français, italien, croate, danois, allemand, suédois, finnois, slovène, tchèque, russe, grec, chinois
6. Mise à jour par CD: la dernière version est V4.013. Remarque: Ne prenez pas en charge le logiciel Old V19.
7. Si vous souhaitez effectuer Seat, Bentley et Lamborghini, veuillez acheter VAS 5054A avec le logiciel Old V19.
8. Garantie d'un an
Note:
lors de l'installation du logiciel, s'il vous plaît choisir 5054A.
VAS6154 Infrastructure mode:

In infrastructure mode, several network-capable devices can be connected together (network subscribers).
For a wireless network, a WLAN access point is required. This access point forms the connection to WLAN-ready subscribers.
VAS6154 Point-to-point connection:

With point-to-point connection via a wireless network, VAS 6154 creates a radio network. VAS 6154 thereby adopts the role of a radio access point (Access Point). A direct connection is made between the diagnosis unit and the diagnosis interface VAS 6154.
VAS 6154 is configured using the web-based user interface.

VAS6154 Design and features:
There are two equipment versions:

One version includes a wireless network and USB module One version has no wireless network module (the wireless network module can be retrofitted at any time provided national regulations permit).
You can use wireless network for VAS6154 in following countries:
Australia, Bosnia and Herzegovina, Brazil, Canada, Switzerland, Cyprus, Czech, Danmark, Estonia, Finland, Greece, Hongkong, Israel , India, Ireland, Italy, Lativia, Mexico, Netherland, New Zealand, Poland, Russia, Argentina, Korea, Singapore, SLOVENIA , Turkish, Ukraine , UAE, United States, United Kingdom
VAS6154 ODIS 4.3.3 Software Language Available:
English, Japanese, Portuguese, Romanian, Korean, Dutch, Polish, Turkish, Spanish, French, Italian, Croatian, Danish, German, Swedish, Finnish, Slovenian, Czech,
Russian, Greek, Chinese
VAS6154 ODIS 4.3.3 Software New Functions:
– Estimated remaining times are shown for ECU flash operations.
– Diagnostic protocol contains interruptions of GFF sessions, extended measurement values, improved ECU communication view,
used diagnostic hardware, connection type of diagnostic hardware, operating system, the hotfix used and submissions of support requests
– The measured value display has been improved.
– Documents in GFF are displayed in separate windows.
– One message box will be shown at the beginning of the test drive mode.
– GFF hotfixes can be integrated during diagnostic sessions.
– Danger messages have been revised.
– Stopping of diagnostic sessions may be interrupted.
– Automatic deletion of autosave diagnostic protocols after successful transmission.
– Selection of PassThru diagnostic hardware has been improved.
– ODIS Service Software update has been stabilized.

VAS6154 Technical data:

Dimensions: approx. 136x48x25mm
Weight: approx. 150g
Power supply: 8-18V via vehicle connector
Output: approx. 5W
Temperature range: Storage -20°C to +85°C, operation -20°C to +40°C
PC interface (wired): USB 2.0 High Speed, 480 Mbit/s or Fast Ethernet, 100Mbit/s (via LAN module)
PC interfaces (wireless): WLAN 802.11 ab/b/g/n 2T2R 300 Mbit/s Client Mode (WPA2 EAP-TLS, WPA2 PSK)
AP mode (WPA2 PSK)
PCB display: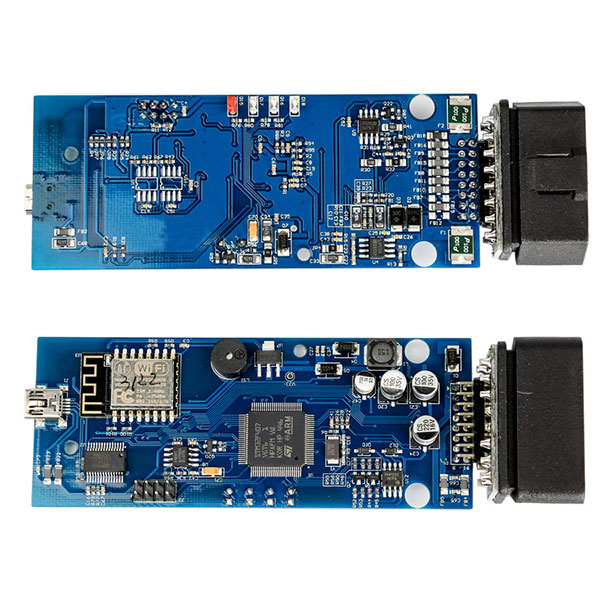 Package Includes:
1pc x Diagnosis interface VAS 6154
1pc x USB cable
1pc x CD (with Newest ODIS software)





Avertissement:
1. Tous les colis envoyés vers l'outre-mer de la france, comme Martinique, Réunion, Guadeloupe etc. le mode de livraison est la poste ordinaire, non DHL express, parce que la douane est stricte, merci de votre compréhension.
2. Certains produits speciaux vers la France: Lexia 3 PP2000, Renault Can Clip, TCSCDP DS150, Multidiag Actia, MB Star série etc. le mode de livraison est EMS ou Yanwen EMS, délai de livraison est 7-12 jours. Pour ces produits, nous n'envoyons pas par DHL.


Contact informations:
Email:
sales@oemobdtool.fr
Skype:
oemobdtool.fr
Tel: 0086 18223445619
Online service support
Si vous avez des questions, n'hésitez pas à nous contacter.